MFA:
Multi-Factor Authentication (MFA) is an authentication method that requires the user to provide two or more verification factors to gain access to a resource such as an application.
Rather than just asking for a username and password, MFA requires one or more additional verification factors, which decreases the likelihood of a successful cyber attack.
New users
When you first log in to DOKA Saas, with the user and password provided by us, you will be taken through a multi factor authentication (MFA) & email verification process.
This will verify your email, and ask you to install and use an authentication service. e.g. Google authenticator, but many others are available.
Google authenticator
Google Authenticator generates 2-Step Verification codes on your phone.
2-Step Verification provides stronger security for your Account by requiring a second step of verification when you sign in. In addition to your password, you'll also need a code generated by the Google Authenticator app on your phone.

DOKA SaaS can be added to your google authenticator and used to generate the one time code needed at login.

After your first login you will get a message asking you to set up your authentication app, and to scan the QR code to add DOKA SaaS as an authentication account.
Once done, enter the one time code in to the Doka SaaS prompt as below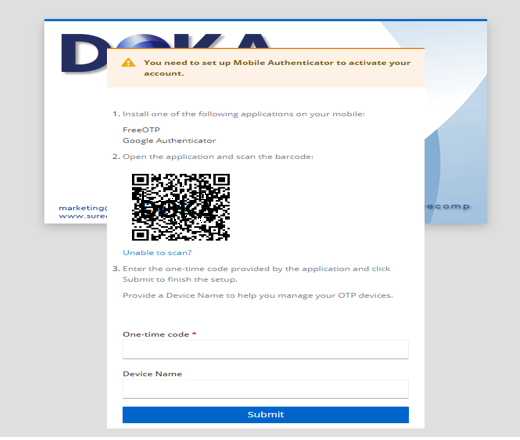 Password Expiry
The password we set for you will be set to expire on first use, so you will also be prompted to change it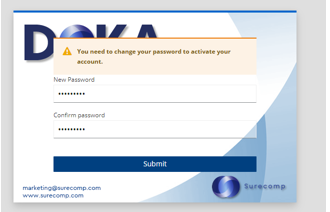 E-mail verification
An email will be sent to the email associated with your profile for verification. Simply click on the link to verify you received it.

Normal logins from now on
Having set up the authenticator, updated your password, and verified your email, Login will be simpler from here on.
When you log in, you will just be asked for the one-time code from your authenticator.
In fact, if you access the DOKA SaaS url whilst your session is still active, you may well bypass the login screen too.