Introduction to Guarantee/Standby LC:
'Guarantee' means any signed undertaking, however named or described, providing for payment on presentation of a complying demand.
'Standby Letter of credit' is a legal document issued by a bank guaranteeing a bank's commitment towards on-time payment to the seller in the event if the buyer defaults on the agreement provided the seller fulfills the terms & conditions of the contract. The bank promises to make the required payment to the seller as long as they meet the requirements of the SBLC. The bank payment to the seller is a form of credit, and the customer (buyer) is responsible for paying the principal plus interest as agreed with the bank.
To create/advise a new contract (Guarantees and Standby L/Cs), GITOPN transaction is used.
Select it from the menu item[Guarantee Products -> Guarantees/Standbys -> Main -> Open/Advise].
(Users can directly start this transaction by clicking the (Launch transaction
) available in the Panel headline without having to select the relevant menu )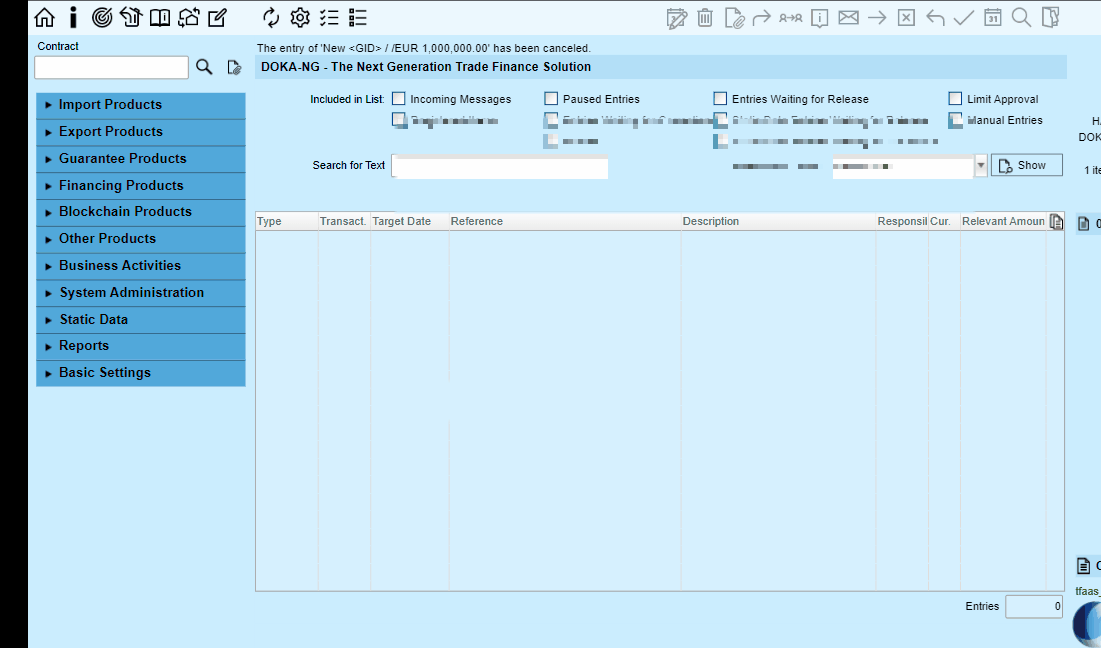 The following types are supported by the application.
Issuance of undertaking (ISSU)
We create an undertaking in favor of the beneficiary and forward this either directly to the beneficiary, or via the advising bank.

Issuance of counter-undertaking (ISCO)
We instruct the issuing bank to create an undertaking in favor of the beneficiary for which we assume full responsibility.

Issuance of counter-counter-undertaking (ICCO)
We instruct the counter-issuing bank to instruct the issuing bank to create an undertaking in favor of the beneficiary.

Advice and confirmation of issued undertaking (ACNF)
We advise the undertaking and assume full responsibility by adding our confirmation.

Advice of issued undertaking (ADVI)
We advise the undertaking without obligation on our part to the beneficiary.

Guarantee received
A guarantee in our own favor.
You can select the relevant type of undertaking and based on the selection criteria the 'Choice of Text'[Guarantee Text templates] is picked.
The available form of the undertaking in the application,
Demand Guarantee

Standby Letter of Credit

Dependent Undertaking (Surety)

Surety Payable on First demand
The user should fill all the required fields like Guarantee Amount and Currency, Purpose of Message, Undertaking Type, Form of Undertaking, Expiry Type and Liability Type, Party Details, Undertaking text and so on. Following a new Swift guideline for issuance of a local guarantee, Language of a standard wording is mandatory , when text option 'Standard Wording' is chosen.
When creating a Guarantee/Standby, if any mandatory details/information's are missed out then a error message is displayed over the relevant fields not allowing for Guarantee Creation.
Once all the changes done, click on (
) Save function to save all the the data entered in the transaction to the database. The Guarantee contract will be created successfully.