'Guarantee/Standby LC texts' are the Standard undertaking texts to be used for the processing of Guarantees/Standby LC Issuance.
The selection of the Guarantee/Standby LC texts is distinguished by language type (English/French/German/Italian/Spanish), Purpose of Outgoing (ISSU/ISCO(Sequence B & C)/ICCO(Sequence B & C)), type of guarantee (e.g. advance payment guarantee, bid bond, Credit card guarantee, Payment Guarantee, Performance Bond, Warranty Bond etc.), Form of Undertaking (Demand guarantee, Standby Letter of credit, Dependent Undertaking) and its period of validity(Limited/Unlimited/Both). Guarantee texts can also be stored for specific countries or parties (and groups of parties). On top of this, it is also possible to weight the most often used texts using field priority, ensuring that the most used appear at the top of the list in guarantee/Standby LC opening transactions (e.g. GITOPN).
Another panel is available to store the texts with Further Guarantee/Standby LC Information for other fields such as Presentation Instructions, Expiry/ Liability Conditions, and Underlying Transaction Details.
The stored text is then populated to the corresponding fields in the guarantee transaction.
To maintain advanced texts such as Guarantee/Standby LC Text, DBIATX transaction is used.
Select it from the menu item[Static Data -> Correspondence -> Advanced Text].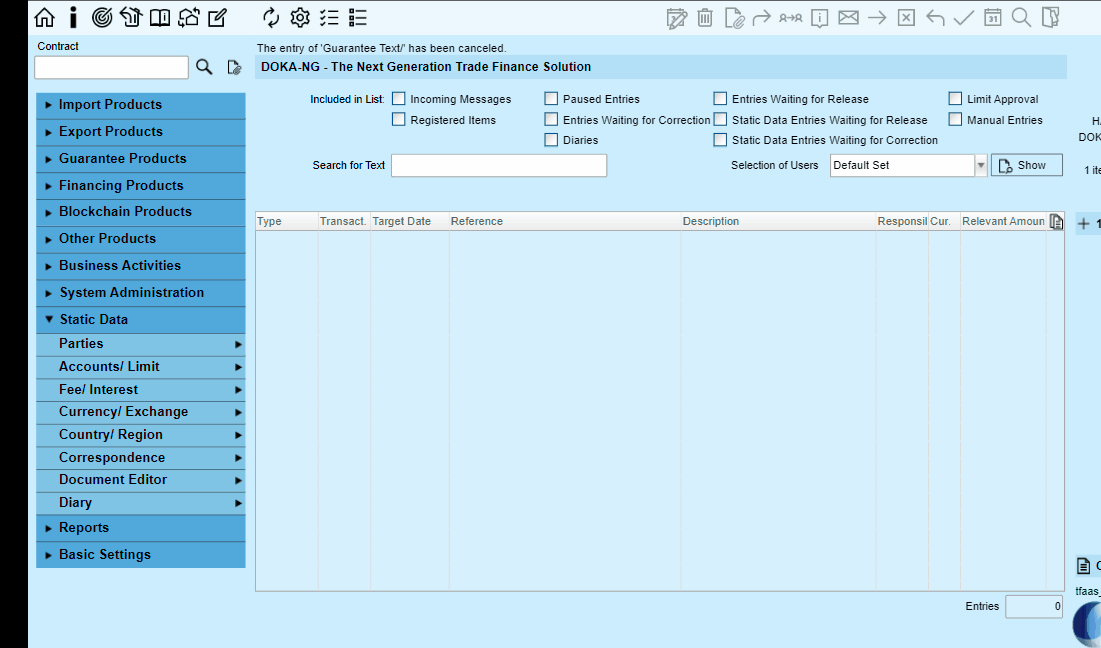 To add a new Text, click on the
to create a new Guarantee/Standby LC text.
When you have made your changes, click on the (
) Save function to save all the the data entered in the transaction to the database.