A Letter of Credit is an undertaking by the bank issuing it to pay the beneficiary of the credit provided stipulated documents are presented and other terms and conditions of the LC are complied with.
Export Letter of Credit:
An Export Letter of Credit, which is also referred to as documentary credit, is a contractual agreement on the part of the the issuing bank, on behalf of an importer, promising to pay the beneficiary or exporter provided conditions specified in the Letter of Credit have been satisfied.
The issuing bank will typically use intermediary banks(Exporter's Bank) to facilitate the transaction and make payment to the exporter.
The Exporter's bank receives the document presentation under an Export L/C from the Presenter(Beneficiary or through another Banks). At that time the Exporter's Bank will register the received documents for record purposes.
For each document presentation under an Export L/C, a subordinate contract is created under that letter of credit. This sub-contract has its own reference number. Transactions for processing document sets are handled under the subordinate sector Document Sets under an Export L/C ('BE').
The user can register the documents in the following ways through the checkbox 'Enter Docs, Discrep., Instr. and Shipping Details',
The received documents is registered in the system without entering further details. The other details like document list, potential discrepancies, or instructions are specified in the subsequent transactions.
The receipt of the documents and all information related to the document set are to be entered in the system.
To register a receipt of a document set , LETDRV transaction is used.
Select it from the menu item[Export Products -> Export L/C -> Main-> Received Documents].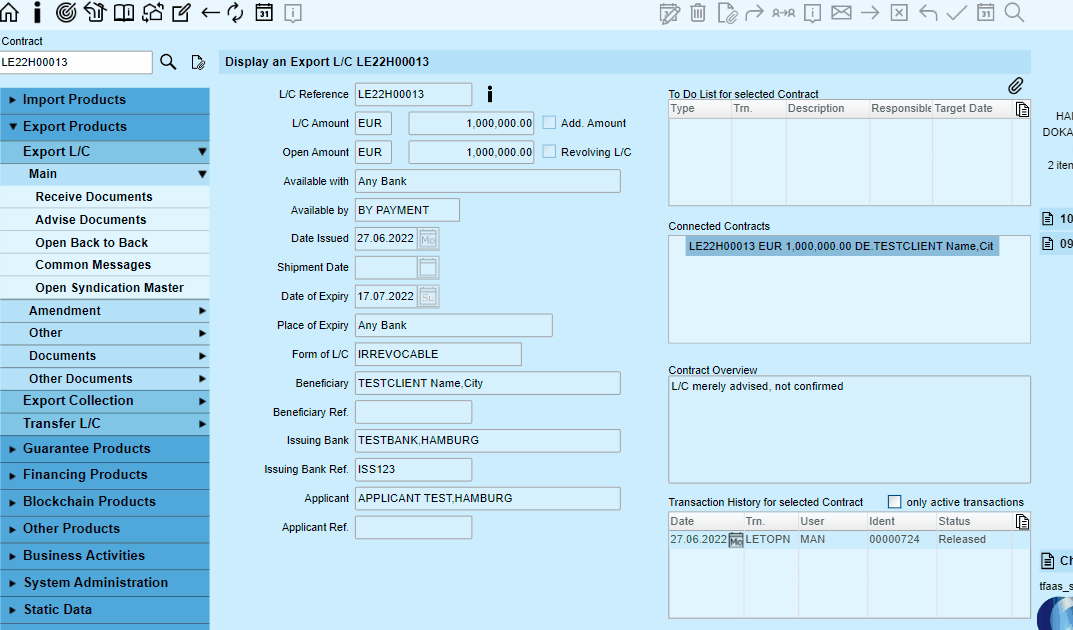 (Users can directly start this transaction by clicking the (Launch transaction
) available in the Panel headline without having to select the relevant menu )
When you have made your changes, click on the (
) Save function to save all the the data entered in the transaction to the database.