If the collecting bank returns the documents unpaid, indicating that the drawee has rejected (protested) the payment (or some other reason), we are to advise the drawer of this and to reduce the open amount with the value of the rejected document.
Pending Non-Payment:
If the rejection is not final, it is called 'Pending Non-Payment'. This is to advise the drawer that he needs to contact the drawee in order to negotiate a solution.
Outright, Hold documents:
If the rejection is final, with a documentary collection the collecting bank may hold on to the documents waiting for instructions, because the drawer may decide to sell the goods to another party in the country of the collecting bank (since they have already been shipped there). However, the collecting bank hopes that the drawer will ask them to present these documents to a different party, in order to receive the payment eventually.
Outright, return documents:
When the documents have been returned (for the first time or according to the instructions of the drawer), they are to be returned to the drawer. In case the option 'Outright, return documents' is selected, the table "Rejected Documents" becomes editable. In this table the user can specify, which documents have to be sent back.
In case of clean collections the collecting does not hold on to the financial document when the drawee rejects it.
If the collection is rejected partially, the partial funds should arrive around the same time as the final rejection message. If 'Rejected, return documents' has been selected, the contract is closed.
This transaction(BOTDCR) is used to reject documents. It is not allowed incase of
Not allowed in case of open advances.
Not allowed if selected contract has already been closed
Not allowed if selected contract has already been accepted.
Select it from the menu item[Export Products -> Export Collection -> Main -> Process Discrepant Docs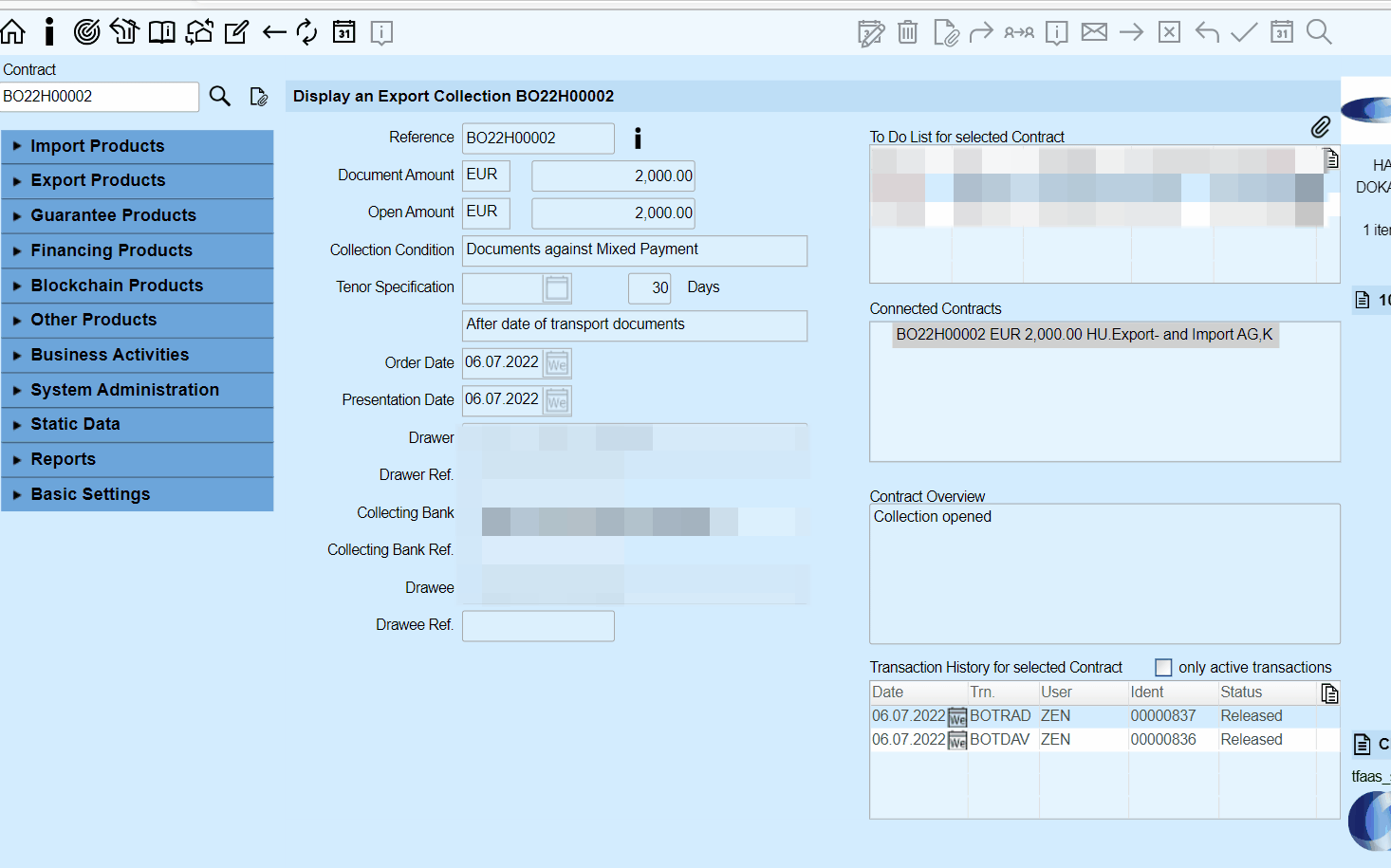 When you have made your changes, click on the (
) Save function to save all the the data entered in the transaction to the database.