'Amending' is to make any kind of changes to the Advance contract. These changes may include increase in the advance amount or validity changes or transfer of risk or other changes to the terms and conditions.
Transfer of Risk:
The application supports discounting of usance export bills (documents under Export LC or Export Collection) prior to the acceptance of the Issuing/ Collecting Bank. This is done against the risk/liability of the customer (the beneficiary or the drawer). However, once the acceptance is received, provision is available in this transaction to change the risk from customer to the Issuing/ Collecting Bank. The checkbox 'Change risk', when selected, deselects the 'Recourse' checkbox, thereby transferring the risk/liability from the customer to the Issuing/ Collecting Bank.
Interest option:
In case of an amendment of the advance, the following options are available via the dropdown 'Interest Option' :
Settle until today - The interest is calculated until the current date (today) and settled.

Settle at due date - Interest will not be settled immediately but only at due date
To make changes to an Advance contract, BPTAME transaction is used.
Select it from the menu item[Financing Products -> Advance -> Main -> Amendment].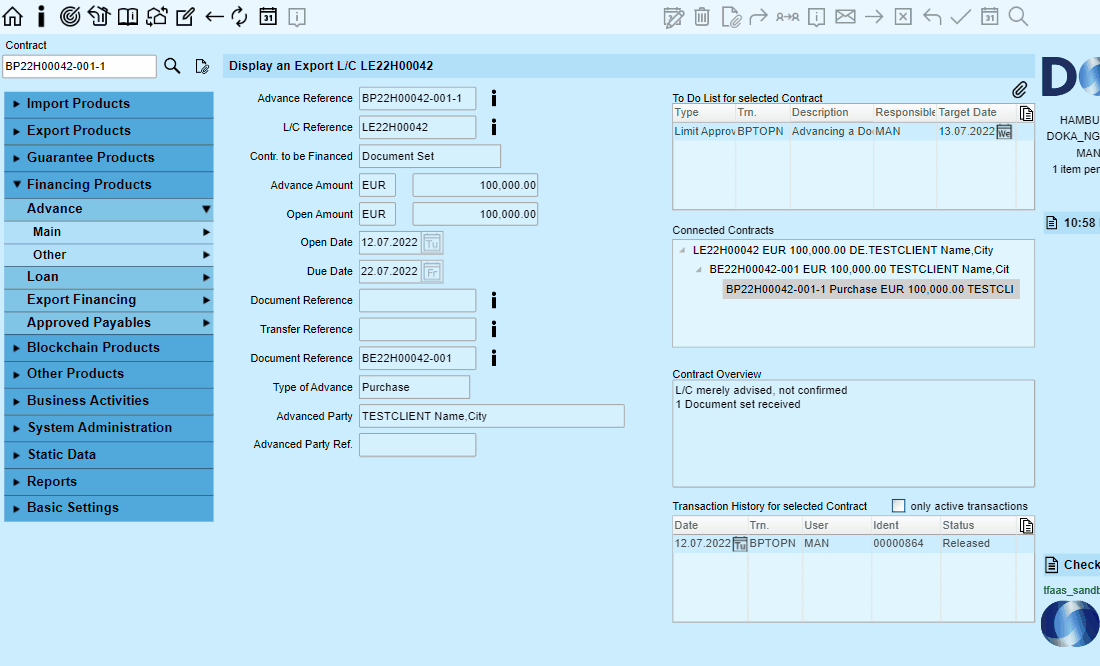 (Users can directly start this transaction by clicking the (Launch transaction
) available in the Panel headline without having to select the relevant menu)
When you have made your changes, click on the (
) Save function to save all the the data entered in the transaction to the database.