Advising:
When a Letter of Credit (LC) is issued, the LC Issuing Bank sends the LC either to its branch office or correspondent bank, which is normally located in the seller's (beneficiary) country. The branch office or correspondent bank that receives the LC is known as the Advising Bank.
Any Letter of credit is forwarded to the beneficiary by the advising bank. The advising bank acts as a conduit between the issuing bank and the beneficiary. The advising bank ensures that the LC is apparently authentic.
When the letter of credit has already been pre-advised or registered, at first the assigned reference number has to be searched or selected. All information stored in the pre-advise or registration can be adapted and updated except for the currency of the contract.
Confirmation:
Confirmation of LC constitutes an undertaking on part of the confirming bank to pay to the negotiating bank or the beneficiary without recourse if the documents are presented in accordance with the terms and conditions of the LC. This undertaking is in addition to the undertaking provided by the issuing bank.
The field 'Confirmation Instruct. Received' displays the confirmation instructions received from the issuing bank or from the 1st advising bank. The Confirmation instructions available in the system are MAYADD, CONFIRM & WITHOUT.
The field 'Confirmed by us' shows the current status of the confirmation, whereupon the internal bookings are carried out. This shows, whether a confirmation is present or not. If there is a silent confirmation is available (which is not to be communicated outwards), this status will also be displayed here [Confirmed by us -> No/Silent/Yes]
The checkbox 'Incoming Transfer' is checked, when an L/C was received through a transfer. This is used for message management. If the receipt was advised through SWIFT message MT 720, the checkbox will be checked automatically.
To advise the beneficiary of an export letter of credit, LETOPN transaction is used.
Select it from the menu item[Export Products -> Export L/C -> Main -> Advise/Confirm].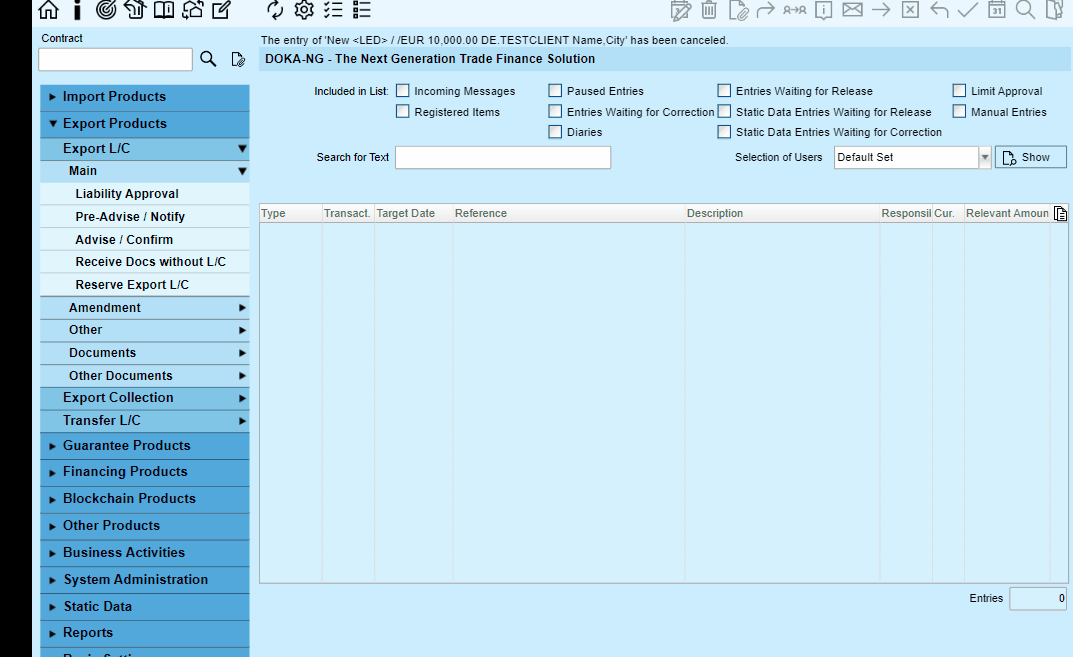 (Users can directly start this transaction by clicking the (Launch transaction
) available in the Panel headline without having to select the relevant menu)
When you have made your changes, click on the (
) Save function to save all the the data entered in the transaction to the database.