'Past due' refers to a payment that has not been made by its cutoff time at the end of its due date.
A borrower who is past due will usually face some penalties and can be subject to late fees.
Failure to repay a loan on time usually has negative implications for a borrower's credit status and may cause loan terms to be permanently adjusted.
An individual or business who takes out a loan or obtains any type of credit from a lending institution is expected to repay the loan according to the terms of the loan agreement. Lending institutions depend on the expected stream of cash flows outlined in loan agreements and will take penalizing steps when payments are not made on time.
This Past due transaction facilitates an overview of the Loan contract and the outstanding interest/commission due under the contract. The user could decide if the outstanding interest/commission is to be capitalized or not and therefore could change the defaulted input of 'Interest to be capitalized' checkbox.
If required, the interest details could also be modified to better relate to the past due situation.
To process past due Loan contracts which is open and not closed, TRTLAT transaction is used.
Select it from the menu item[Financing Products -> Loan -> Main -> Past Due Loan]. This transaction is accessible only after a Loan contract becomes Past due.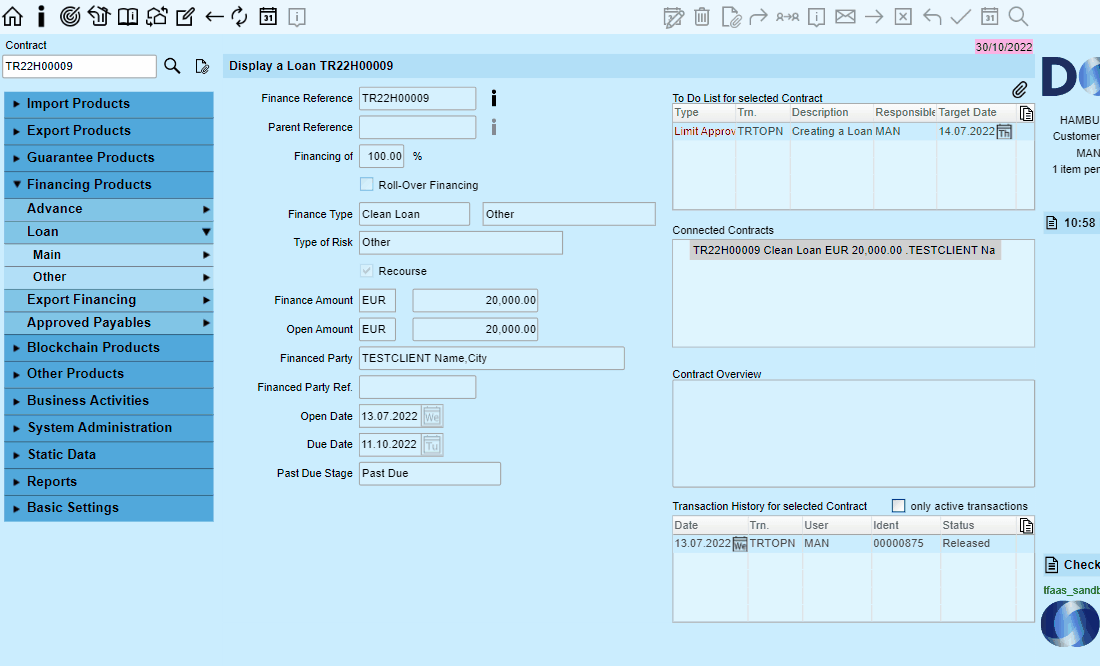 (Users can directly start this transaction by clicking the (Launch transaction
) available in the Panel headline without having to select the relevant menu)
When you have made your changes, click on the (
) Save function to save all the the data entered in the transaction to the database.