Introduction
Trade loans are an important and well-established trade finance technique – enabling finance to be provided until payment for goods is received.
Benefits:
Finance regular or one-off purchases of goods and raw materials through a simple-to-draw revolving facility.
Provide funds until payments from goods is received. Can be used on open account, collections, or documentary credit terms.
Can accommodate both high-volume and bespoke transactions, and be adapted to your trading cycle.
Provide funds to pay import collections and import letters of credit at sight, while extending your working capital.
Can enhance your reputation with suppliers by allowing you to accept shorter payment terms.
Could reduce your overall borrowing costs.
Loans
Business Sector ('TR')
Introduction:
In DOKA SaaS, the business sector "Loan" supports financing related to letters of credit or document sets under L/C or collections.
In the application, any finance type can be processed if the following characteristics apply:
A loan that has been granted for a certain period where the capital remains outstanding over the whole period and is intended to be paid back in full. Interest is calculated in arrears. In addition, the application supports interim settlement, interest collection and extension of the loan.
For all loans prepared in connection with a main contract, it is possible to create a loan in some other currency than that of the superordinate contract. As a result, loans can be granted in local currencies; for example, an export LC set of documents can be funded in USD, in HKD or in CNY). In the event of a change in loan, a comparison is made with the middle rate to ascertain that the contract is not funded to an extent of more than 100% of the amount available under the main contract.
To know more details on Financing, please refer the Financing article.

Depending on the financing type the parties of the parent contract are used in the loan contract:
Financing Type

Parent Contract

Financed Party (FIP)

Clean Loan


Bankers' Acceptance


ECR Financing

None (Standalone Financing)

Free selection of a database address

Trust Receipt Loan

Import Collection (BC)
'Create Financing' via transaction Accept and Settle Documents(BCTPAY)/ Settle Usance Documents at Maturity(BCTSUS)

Drawee (DRE) of Import Collection

Trust Receipt Loan

Import L/C Document Set (BR)
'Create Financing' via transaction Send, Accept and Settle Documents(BRTPAY)/ Settle Usance Documents at Maturity (BRTSUS)

Applicant (APL) of the Import L/C

Internal Refinancing

Import L/C Document Set (BR)
'Create Financing' via transaction Send, Accept and Settle Documents (BRTPAY)

Applicant (APL) of the Import L/C

Refinancing

Import L/C Document Set (BR)
'Create Financing' via transaction Send, Accept and Settle Documents (BRTPAY)

Applicant (APL) of the Import L/C

Packing Credit

Export L/C (LE)

Beneficiary (BEN) of the Export L/C

Export Loan

Export L/C Document Set (BE)
'Create Financing' via transaction Send, Accept and Settle Documents(BETPAY)/ Settle Usance Documents at Maturity(BETSET)

Issuing Bank (ISS) of the Export L/C

Trust Receipt Loan

Transfer Bills (BT)
'Create Financing' via transaction Send, Accept and Settle Documents(BTTPAY)/ Settling Funds(BTTSET)

Issuing Bank (ISS) of the Export L/C
Flowchart Business Sector - Loan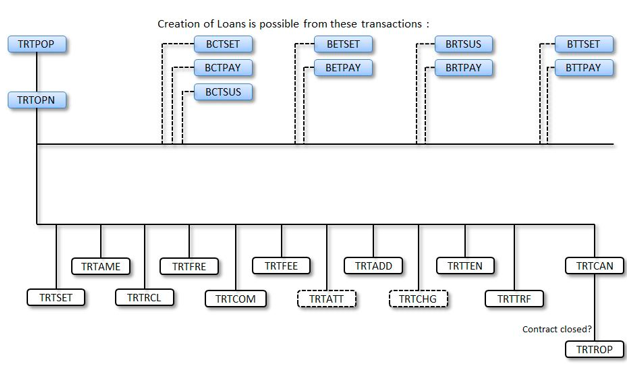 System Outgoing Messages (Swift/Letter):
| | | | |
| --- | --- | --- | --- |
| Transaction | Name of Message | Receiver | Swift/Letter |
| Pre-Opening a Loan | Pre-Advice of a Loan | Financed Party | Letter |
| Creating a Loan | Issue a loan | Financed Party | Letter |
| Amending | Amendment | Financed Party | Letter |
| Transferring the Financed Party | Transfer Message Old Fin. Party | Old Financed Party | Letter |
| | Transfer Message New Fin. Party | New Financed Party | Letter |
| Repaying a Loan | Settlement of Financing | Financed Party | Letter |
| Past Due Loan | Letter for Past due advice | Financed Party | Letter |
| Reimbursement Claim | Advice of Paym./Accept./Negot. | Issuing Bank | Letter/MT759 |
| | Reimbursement Claim | Claiming Bank | Letter/MT742 |
| Closing | Advice of Cancelation | Financed Party | Letter/MT759 |