On receipt of the remitting bank's collection instruction and the documents, the collecting bank will examine what has been received, check the schedule of instructions it has been given, and make sure that the documents attached are as described and in the correct number of originals and copies. Collecting
banks are not required to look to the documents for any instructions.
For the collecting bank, the collection will often be referred to as an 'inward bill for collection'.
The collecting bank, normally a correspondent of the remitting bank based in the buyer's country − the collecting bank, as agent of the remitting bank, will present the documents to the drawee (usually the
buyer of the goods) for payment or acceptance. It should request the drawee to pay the funds on an account of the bank.
There is also a possibility that the additional collection documents are received by the collecting bank through 2nd mail. In this case there will be an already created contract, where the user (as recipient of the documents) can select a contract party or another party, who is only entered in this transaction. There will not be any bookings done in this transaction.
To record the data of Documents received in 2nd Mail, BCTRAD transaction is used.
Select it from the menu item[Import Products -> Import Collection -> Main -> Advise Docs in 2nd Mail].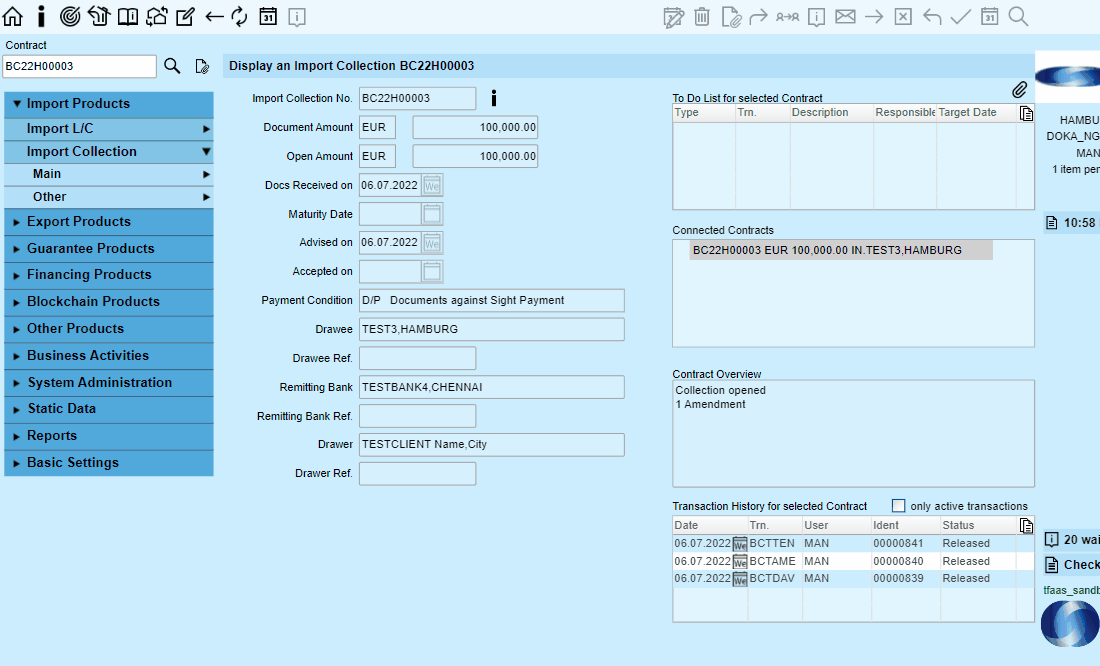 (Users can directly start this transaction by clicking the (Launch transaction
) available in the Panel headline without
having to select the relevant menu)
When you have made your changes, click on the (
) Save function to save all the the data entered in the transaction to the database.