Standby Letter of Credit is a legal document that guarantees a bank's commitment of payment to a seller in the event that the buyer–or the bank's client–defaults on the agreement.
The redesigned and highly structured MT760 is used to issue a Standby L/C and the MT767 is used to amend. Therefore, Issuing / Advising of Standby L/C will be done from the Guarantee module (GI) with respect to SWIFT 2021 changes.
System will still support Standby L/C's in the Import L/C module but not electronically via Swifts MT700/ 705/ 710/ 720. This will be replaced with respective free format messages. The application will give a
warning message 'An auto-converted free format message will be created
instead of the dedicated electronic message as the selected channel does not
support handling of Standby L/Cs anymore'.
To create/advise a new Standby LC contract, GITOPN transaction is used.
Select it from the menu item[Guarantee Products -> Guarantees/Standbys -> Main -> Open/Advise].
The form of the undertaking to be selected as 'Standby letter of credit'.
(Users can directly start this transaction by clicking the (Launch transaction
) available in the Panel headline without having to select the relevant menu )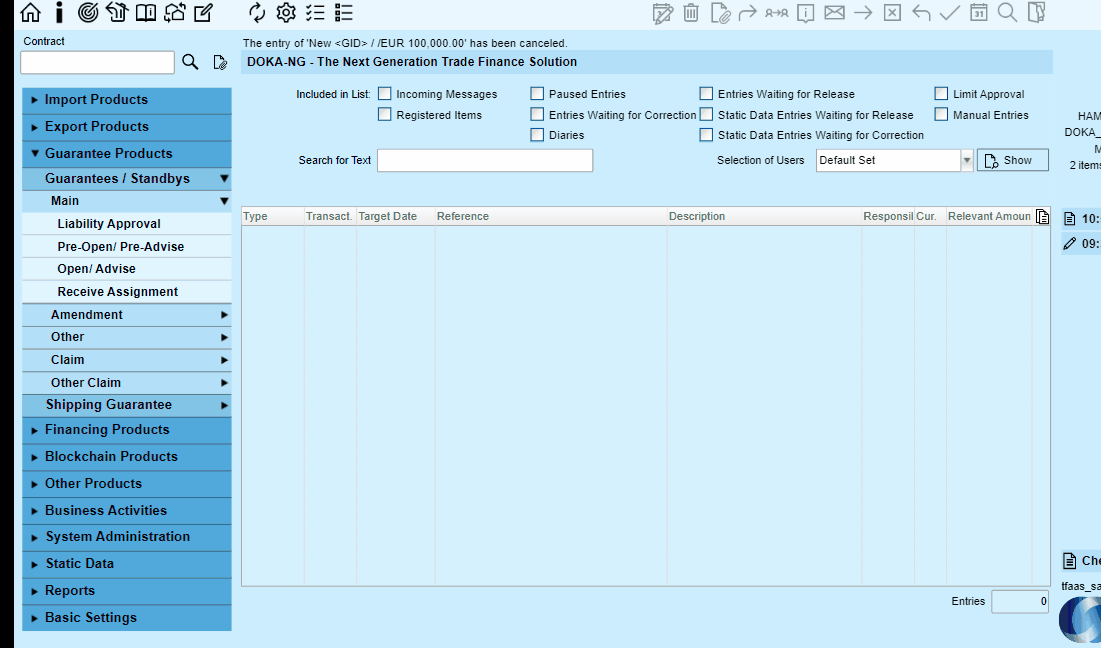 Once all the changes done, click on (
) Save function to save all the the data entered in the transaction to the database. The Guarantee contract will be created successfully.