The First Beneficiary has the right to substitute his own invoice(s) and Draft(s)) for those of the
Second Beneficiary, for amounts not in excess of the original amount stipulated in the Credit and
for the original unit prices if stipulated in the Credit, and upon such substitution of invoice(s) (and
Draft(s)) the First Beneficiary can draw under the Credit for the difference, if any, between his
invoice(s) and the Second Beneficiary's invoice(s).
When a Credit has been transferred and the First Beneficiary is to supply his own invoice(s) (and
Draft(s)) in exchange for the Second Beneficiary's invoice(s) (and Draft(s)) but fails to do so on
first demand, the Transferring Bank has the right to deliver to the Issuing Bank the documents
received under the transferred Credit, including the Second Beneficiary's invoice(s) (and Draft(s))
without further responsibility to the First Beneficiary.
To register the receipt of documents from the first beneficiary under a Transfer L/C, the received data are entered with the relevant transaction BTTDCK.
In this transaction, the user can enter the amount displayed in the commercial invoice of the first beneficiary. Out of this amount the application automatically calculates the margin to be paid to the first beneficiary.
Select it from the menu item[Export Products -> Transfer L/C -> Transfer Documents-> Receive Docs from 1st Ben].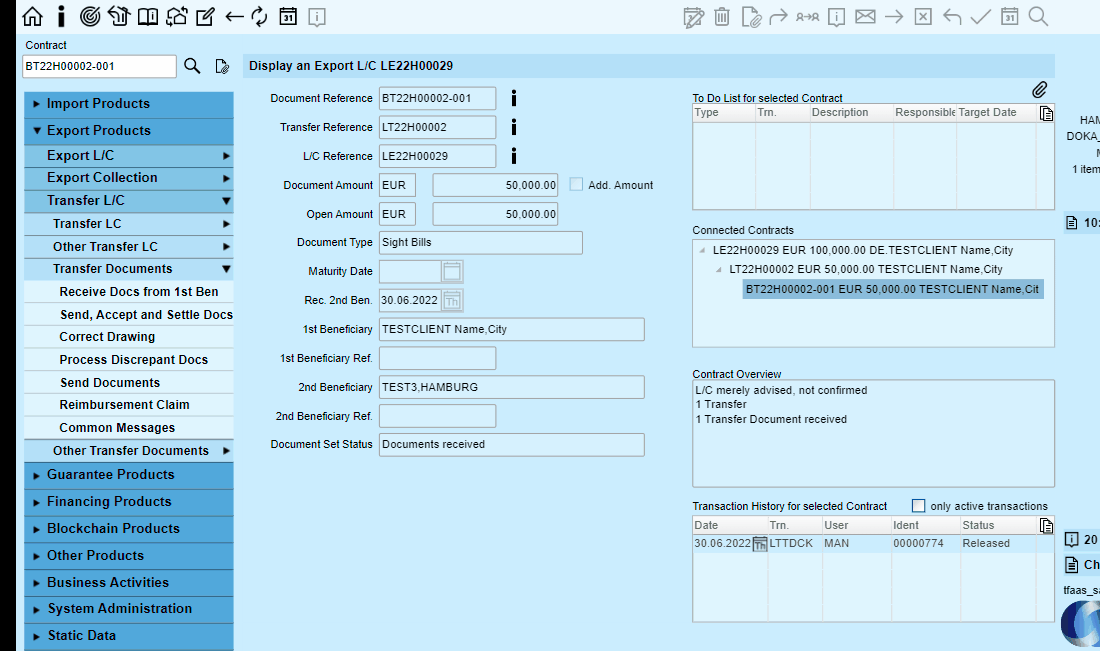 (Users can directly start this transaction by clicking the (Launch transaction
) available in the Panel headline without having to select the relevant menu)
When you have made your changes, click on the (
) Save function to save all the the data entered in the transaction to the database.