'Create Offer' is used to offer a syndication to a Syndication Party to share the risk. The offering party is called the Grantor.
This transaction (SDTPOP) can send an offer only to one Syndication Party. There can be one or many Syndication Parties under a Syndication Master Contract, hence only one offer message per party is allowed.
The offer message is defaulted according to the selected Syndicated Party. The offer message can be defined per party in the Advanced Text module System transaction(DBIATX), which is used to maintain advanced texts such as syndication agreements
Details like Type of Syndication (funded/unfunded), Syndication Percentage, Syndication Agreement, Latest Possible Due Date, Latest Date of Acceptance, etc. can be entered in the transaction.
Details like Framework Agreement Date, Credit Risk Mitigation Instrument and the like are auto-populated from the Syndication Agreement Text, if available. If a defined template for the Syndication Agreement Text is used from ATX, then the Credit risk mitigation instrument is disabled for editing.
This Create Offer transaction is an optional transaction, hence may or may not be created.
This transaction can be used to amend the details any number of times before the deal is opened through Creating a Syndication Deal, the Create Offer transaction can be used for a deal to amend the offer details.
Syndication Agreement Text
The main information here is the offer message. This is automatically populated based on the selected Syndication Party and the Type of Agreement. A default text can also be used. If required, the user can modify the offer message manually by checking the checkbox "Modify Text". It is also possible to format the text, using three formatting buttons - bold, italics or underline.
The Syndication Agreement Text is displayed with the unresolved variables. The [vs. System] button shows the user's manual changes compared to the Syndication Agreement Text proposed by the system. The [vs. History] button shows the changes made to the text in the past.
Entries made by the user are shown in yellow, deletions in red. To view the text showing any resolved variables click the [Show Text] button. Contract data fields embedded in the text are updated instantly. In case the text is manually edited by the user, a warning is generated, indicating that the text has been edited manually.
Once the user enters the Details Panel, this status Offered is defaulted in the dropdown list.
The Syndication Agreement text can only be modified in SDTPOP/SDTRAM transaction as the text is used to send the offer to the Syndication party.
Select it from the menu item[Other Products -> Syndication -> Syndication Deal > Create Offer].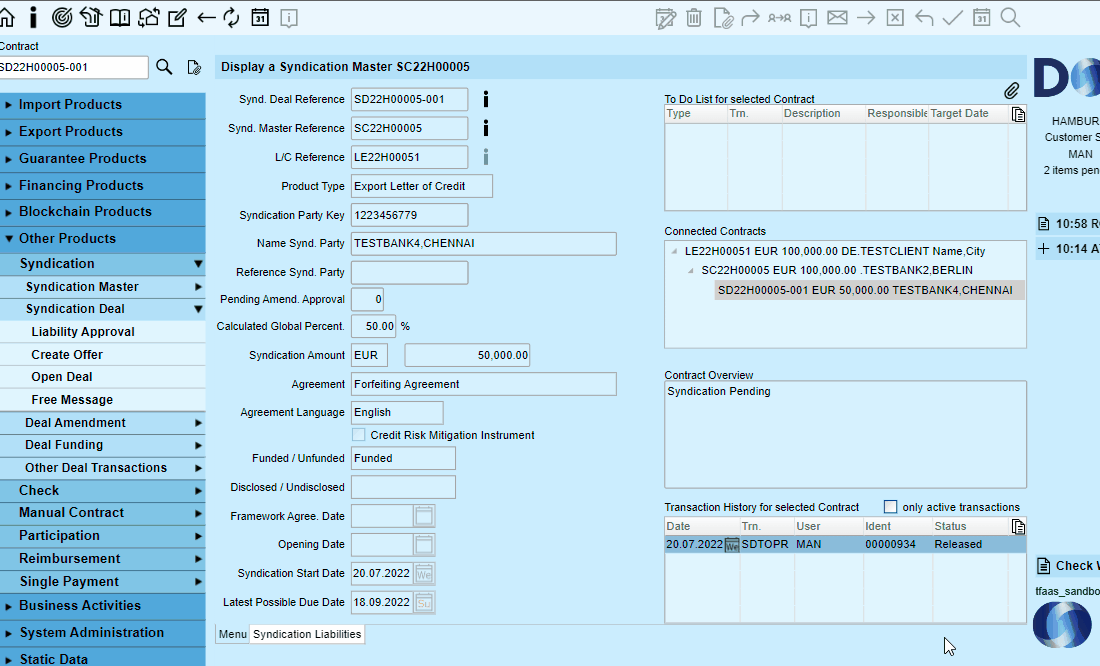 (Users can directly start this transaction by clicking the (Launch transaction
) available in the Panel headline without having to select the relevant menu)
When you have made your changes, click on the (
) Save function to save all the the data entered in the transaction to the database.