This message is used to send common messages to a contract party, to contract parties or to another freely selectable address. On the Common Message panel the user has to enter the type of message to be created, the receiver of the message and where necessary the receiver of copies.
Unless the message type is 'Free correspondence', the message can only be sent to banks through SWIFT.
The following categories of messages can be sent through the Free Message transaction:
Free Correspondence

Request for Cancelation

Query

Answer

Acknowledgment

Structured Free Format Msg.
When selecting the message type 'Free Correspondence' the message type 799 is defaulted. The Document Title and a Narrative are specified in the respective fields and are displayed in the message under Narrative. Message types MT 199,299 can also be selected in 'Free Correspondence'.
If the message type 'Request for Cancelation' is selected, the message type sent is specified in the option Related MT, and the Date of Message is defined in the field of the same name. This means that an MT792 is generated if a message type of SWIFT category MT 7xx was selected in the Related MT field and an MT 192 is generated if the message refers to an MT 103.
When the types 'Query' or 'Answer' are used for a received or sent message, the same principle as for 'Request for Cancelation' is used.
If an 'Acknowledgment' is to be sent, only the message date has to be entered in the field Date of Message. The appropriate text for the acknowledgment is specified in the field Sender to Receiver Information.
The 'Structured Free Format Msg' is a structured message that is intended to be used instead of the unstructured MT799 message. Details of the message can be entered on the Message Details MT759 panel.
Transaction SDTFRE is used to send common messages.
Select it from the menu item[Other Products -> Syndication -> Syndication Deal -> Free Message].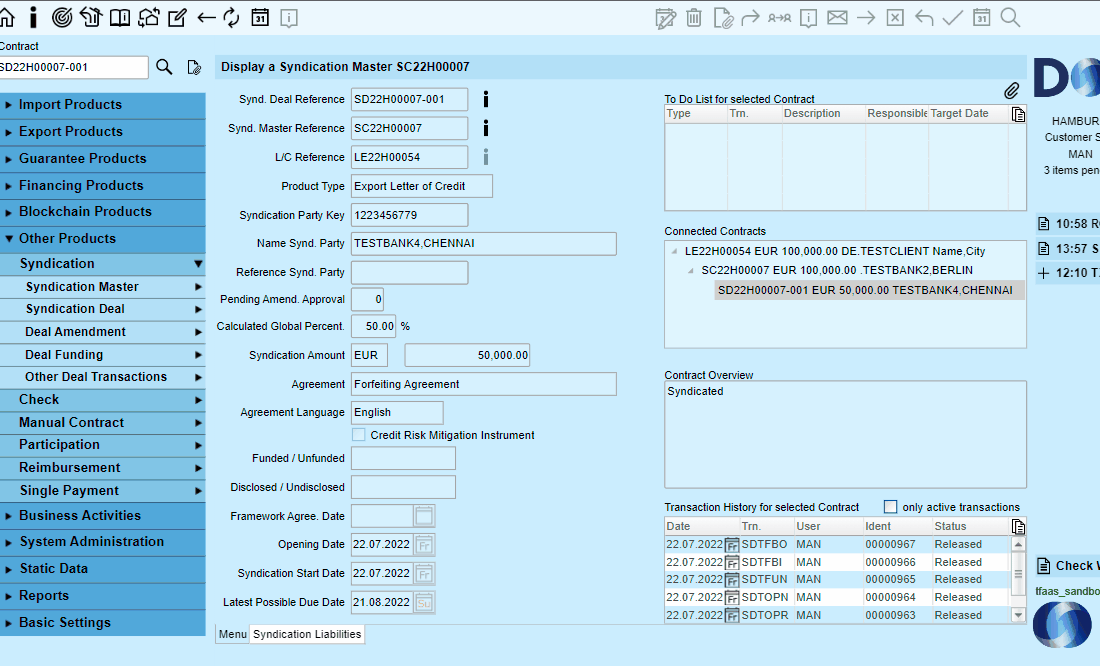 (Users can directly start this transaction by clicking the (Launch transaction
) available in the Panel headline without having to select the relevant menu)
When you have made your changes, click on the (
) Save function to save all the the data entered in the transaction to the database.