An issuing bank ('ISS') may send a reimbursement authorization to an account correspondent (reimbursement bank 'RMB'). This is a message that authorizes the reimbursement bank to honor claims for payment under a specified letter of credit by the designated "available with bank" ('AVB').
A reimbursement authorization is mainly sent by the issuing bank to the reimbursing bank as a SWIFT MT 740.
On the 'Overview' Panel, a checkbox determines whether the contract is subject to Article 7 of the Uniform Rules of Bank-to-Bank Reimbursements under Documentary Credits or not. The information is stored in the database and is available for reimbursement claims. The checkbox can only be checked, if the option 'URR Latest Version' is set in combobox "Applicable Rules" (in this case the checkbox will be checked automatically).
If the checkbox is unchecked (contract is not subject to Article 7 of URR (Latest Version)), the expiry date of the reimbursement authorization must be considered. Receipt of a reimbursement claim after expiry can only be honored after authorization from the issuing bank.
If the checkbox is checked (contract is subject to Article 7 of URR (Latest Version)), the expiry date must not be considered, as the reimbursement instructions are still valid, even after the expiry date has passed.
In such a case, the issuing bank would have to inform the reimbursing bank that the authorization is no longer valid.
On receipt of a claim after expiry, however, as a precaution an inquiry is sent to the issuing bank.
The 'Confirmed by us' field shows the current status of the confirmation according to which the internal booking entries are made. This field can be used to stipulate whether the L/C is confirmed or not. Silent confirmation may also be selected, in which case the L/C is also confirmed but this is not communicated externally. The confirmed amount is entered as an exposure when an L/C is opened and may be subject to change.
To register the receipt of a reimbursement authorization from a bank issuing the L/C, RMTOPN transaction is used.
Select it from the menu item[Other Products -> Reimbursement -> Main ->Receive Authorization].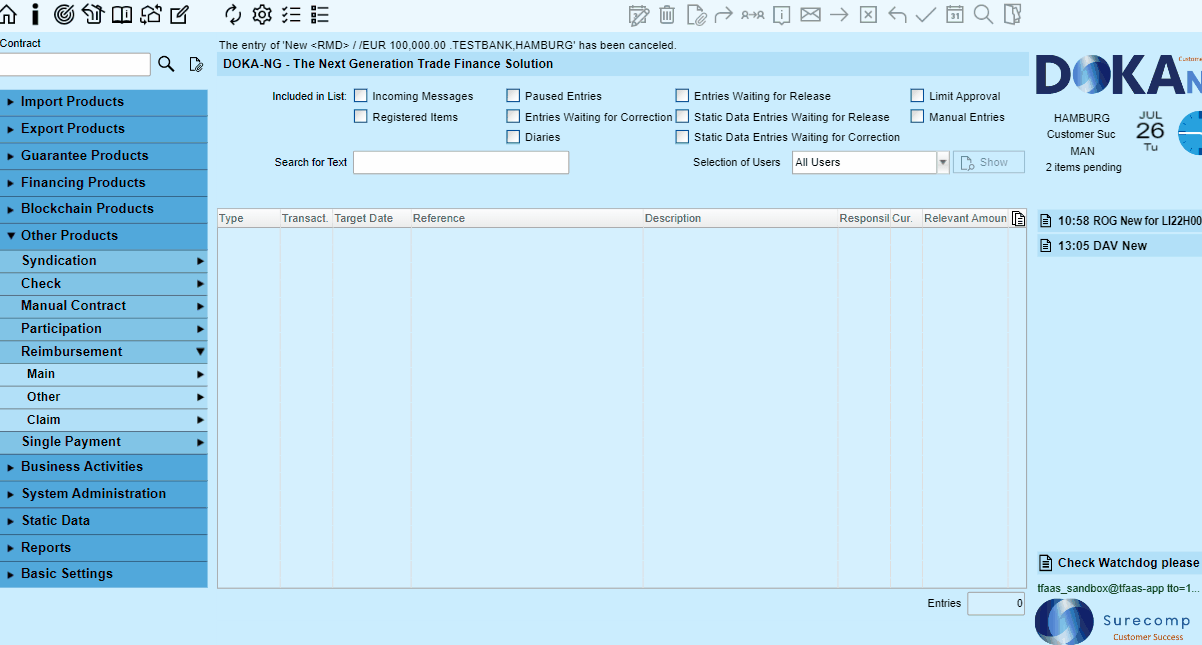 (Users can directly start this transaction by clicking the (Launch transaction
) available in the Panel headline without having to select the relevant menu)
When you have made your changes, click on the (
) Save function to save all the the data entered in the transaction to the database.